Do you manage your website on WordPress and sometimes worry about your data? Then I suggest that opting for the Best WordPress Backup plugin can be a lifesaver for you during catastrophic situations like when your site's data gets corrupted or hacked by hackers or crackers.
So, having great backup support can set you free from all your worries. But if you are wondering which one is the best WordPress backup plugin for your WordPress site. Incomplete sentence
Now, you don't have to wonder anymore. This article will mention the list of 5 Best WordPress Backup Plugins that will surely set you free from your worries and secure your site's data.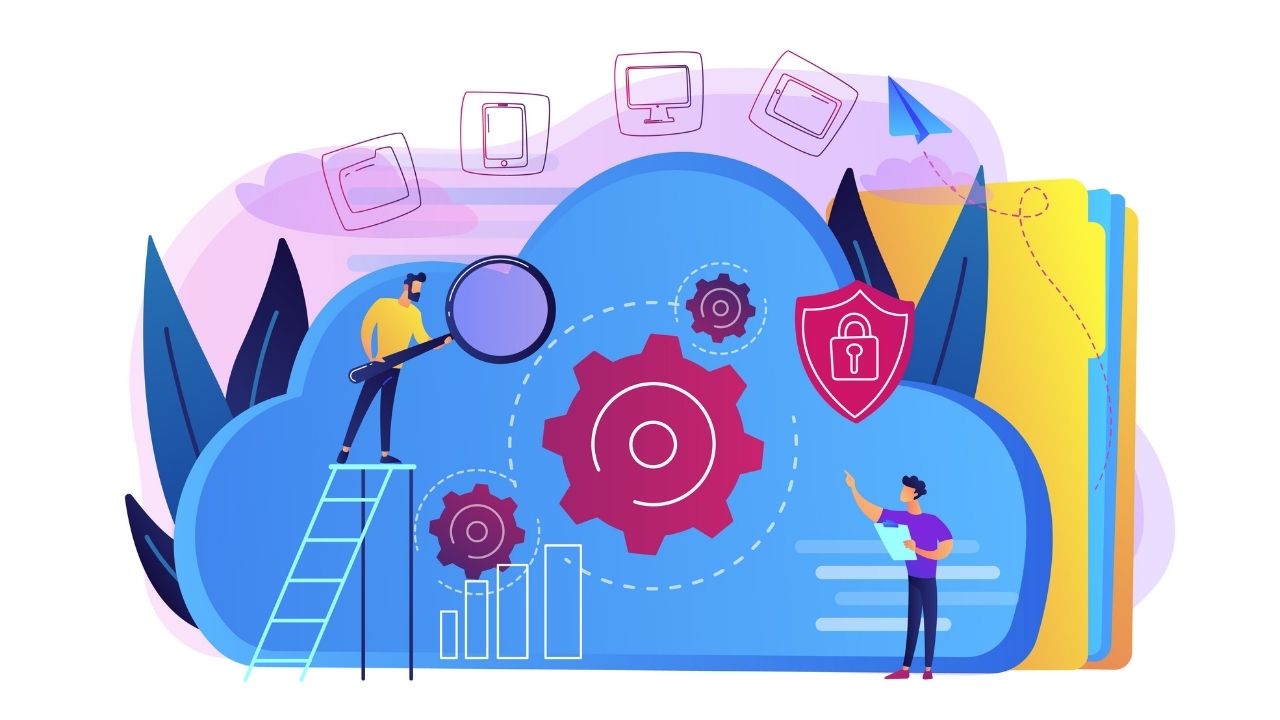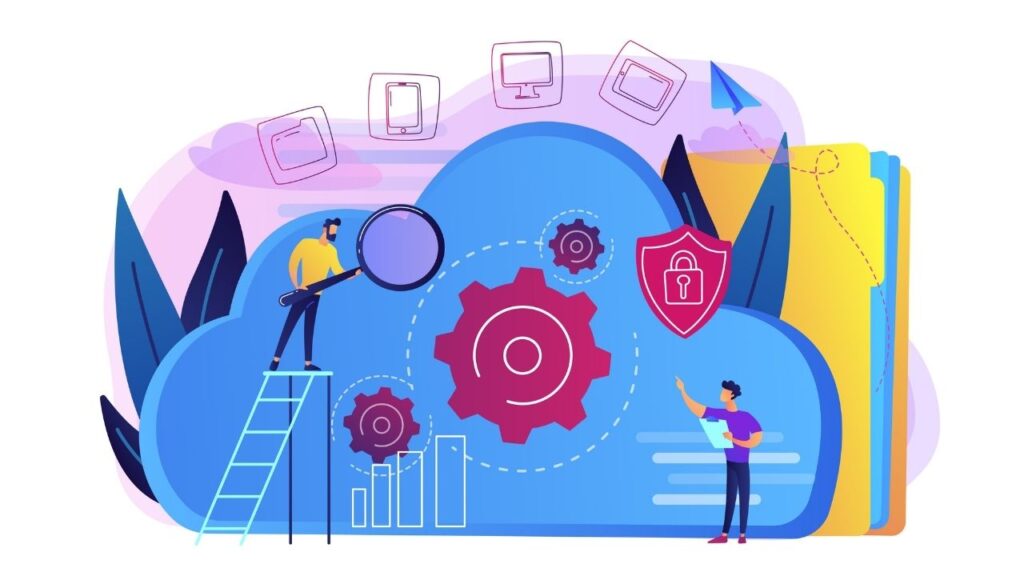 As we all know, WordPress covers 20% of the sites on the internet. Many individuals and organizations use it for making blogs, business articles, portfolios, and many more.
WordPress is an easy-to-use website-making platform that works on mobile and desktop devices. It does not even require any specific programming skills. It supports various paid and free plugins ( add-on software) that make it easy to use, flexible, and add new features.
Backup plugins are also one of those plugins that secure the site's data. If you think you need a security plugin then you can read our post on Benefits Of 5 Best WordPress Security Plugins.
Let's learn a little bit more about WordPress backup plugins. And take a look at the best WordPress backup plugins available in the market.
If you are short on time and don't want to go through the whole article, you can skip and select any topic in the Table of Content.
Introduction to WordPress backup Plugins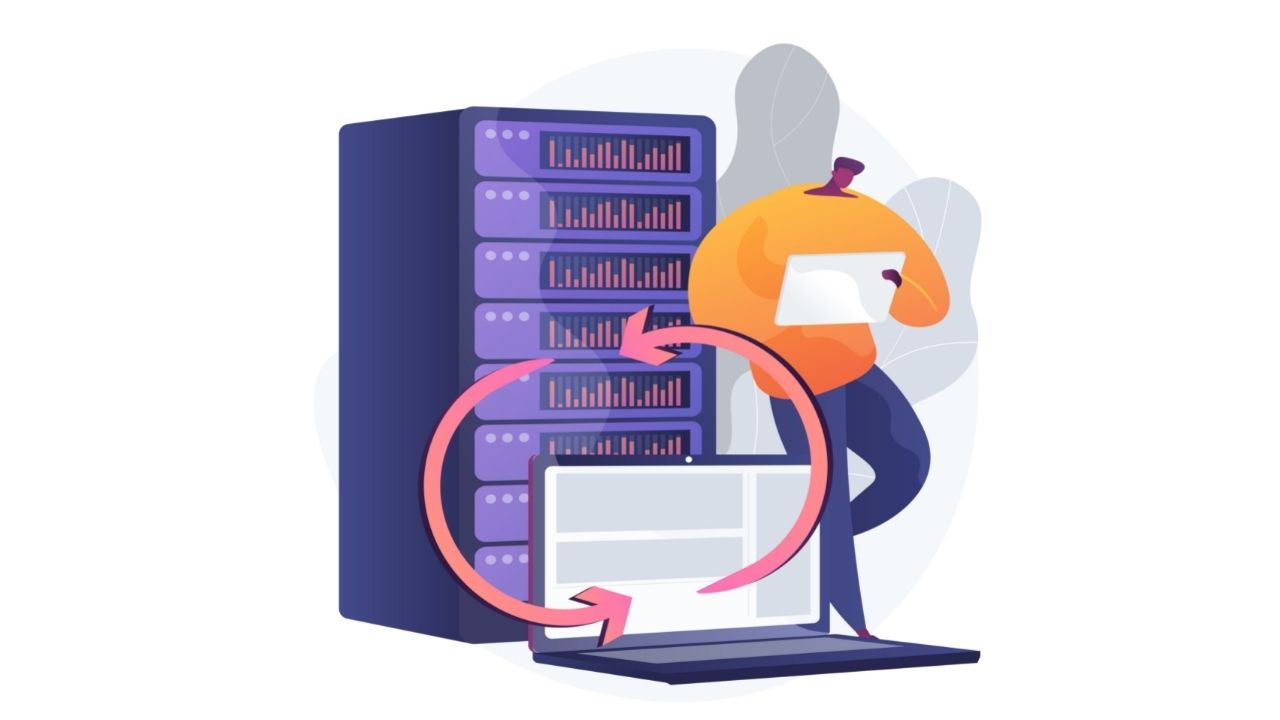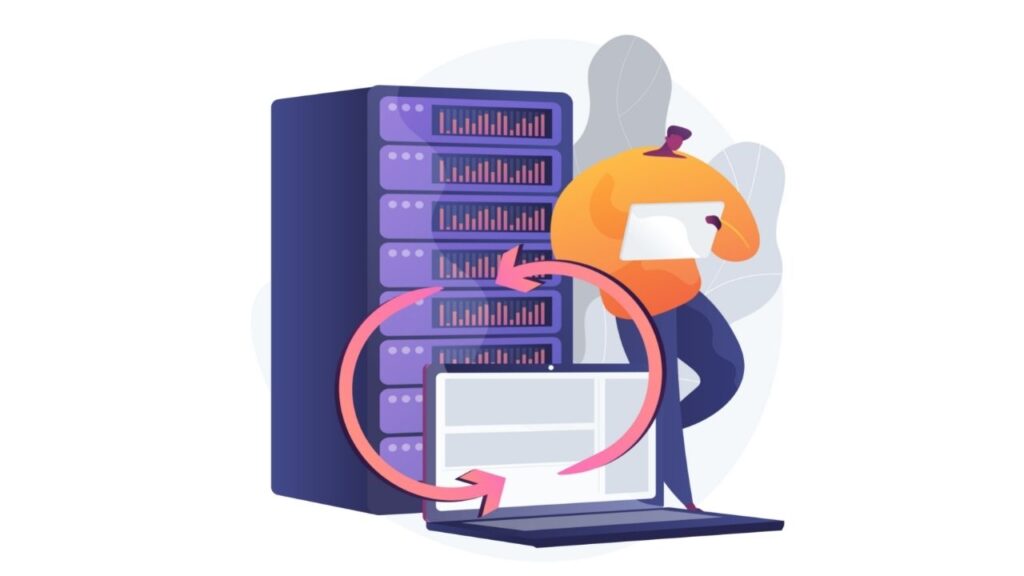 A WordPress backup plugin works as a backup tool for your sites. So, in case your data got lost, corrupted due to a server crash, or got hacked. Then this plugin will help you to recover it with ease.
In earlier times, data sets were stored in the same server, which raises security questions. But as time changes, new technologies come into play and improved data security. A WordPress plugin is one of them. It makes a copy of the data set, uploads it to various cloud servers or remote locations like Google Drive, Dropbox, or Amazon S3.
WordPress backup or restore plugins are easy to install.
Navigate to your WordPress dashboard>click on plugins>add a new one to your site.
There you'll see plenty of options. Some of them will be free, and some paid, and then I know you'll get stuck on how to choose the best one out of them.
Well, to answer your question, scroll down and find out which one is the best for you.
How to choose the best WordPress backup plugin
Undoubtedly there are numerous Backup plugins out there on WordPress but choosing the best one is quite a difficult task, especially if you are a beginner.
So, to ease your task keep these points in mind:
Now, let's get back to our list of the five best WordPress Backup plugins. These are handpicked from the pool of both paid and free plugins.
Best WordPress Backup Plugins
Here we'll discuss their description, features, price alongside our verdict, and you'll get to know what I think of this particular plugin.
1. UpdraftPlus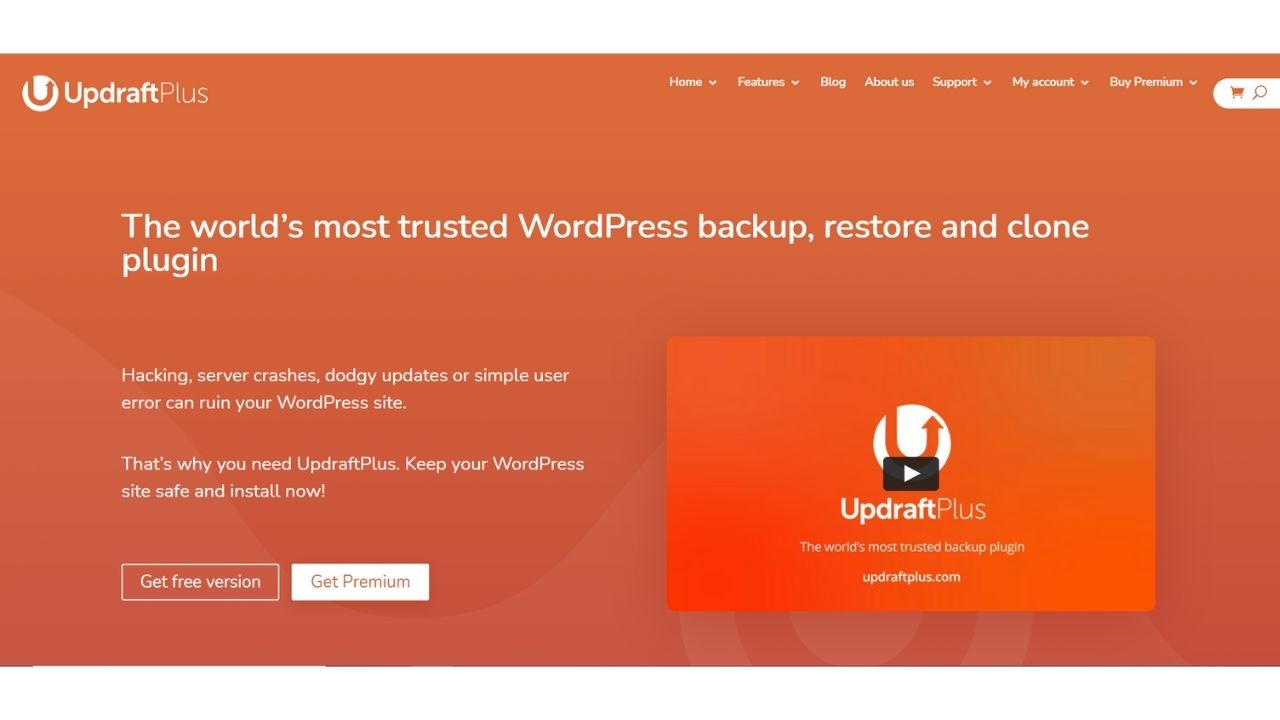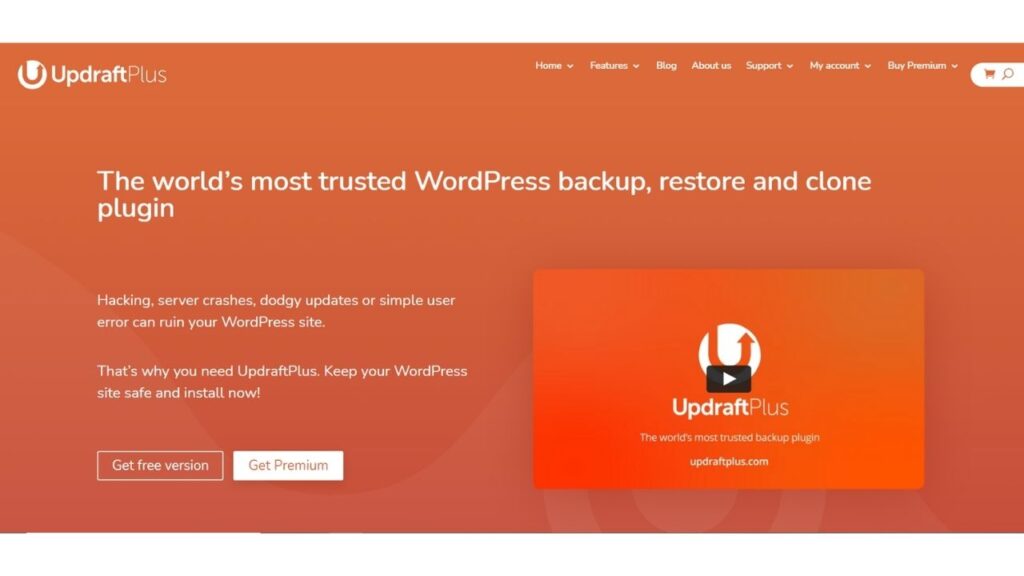 If you are a person who doesn't know much about programming stuff, then the UpdraftPlus WordPress backup plugin is for you.
UpdraftPlus is a popular WordPress backup plugin in the market, packed with many free and premium features. This plugin supports both scheduled backups as well as on-demand backups.
It automatically uploads your backup data on cloud storage servers like Google Drive, Dropbox, FTP, Rackspace, and many others.
Features
Plans and Pricing
| | |
| --- | --- |
| Basic version | Premium version |
| Free | Starts at $42/year |
| One site storage | Free multiple sites storage |
| Basic Email reporting | Incremental Backups |
| Cloud storage | Web dev, Microsoft, Google cloud |
| Schedule backups | Free email and forum support |
Our verdict
UpdraftPlus is a great and most popular WordPress backup plugin in the market. It has got an average of 4.5 ratings out of 5 on multiple platforms and got over 2 million active installations. Well, that's a huge milestone for such companies. The reason I put it on this list is that it offers lots of advanced features for free. And later, you can increase its functionality by buying its premium version.
2. BackWPUp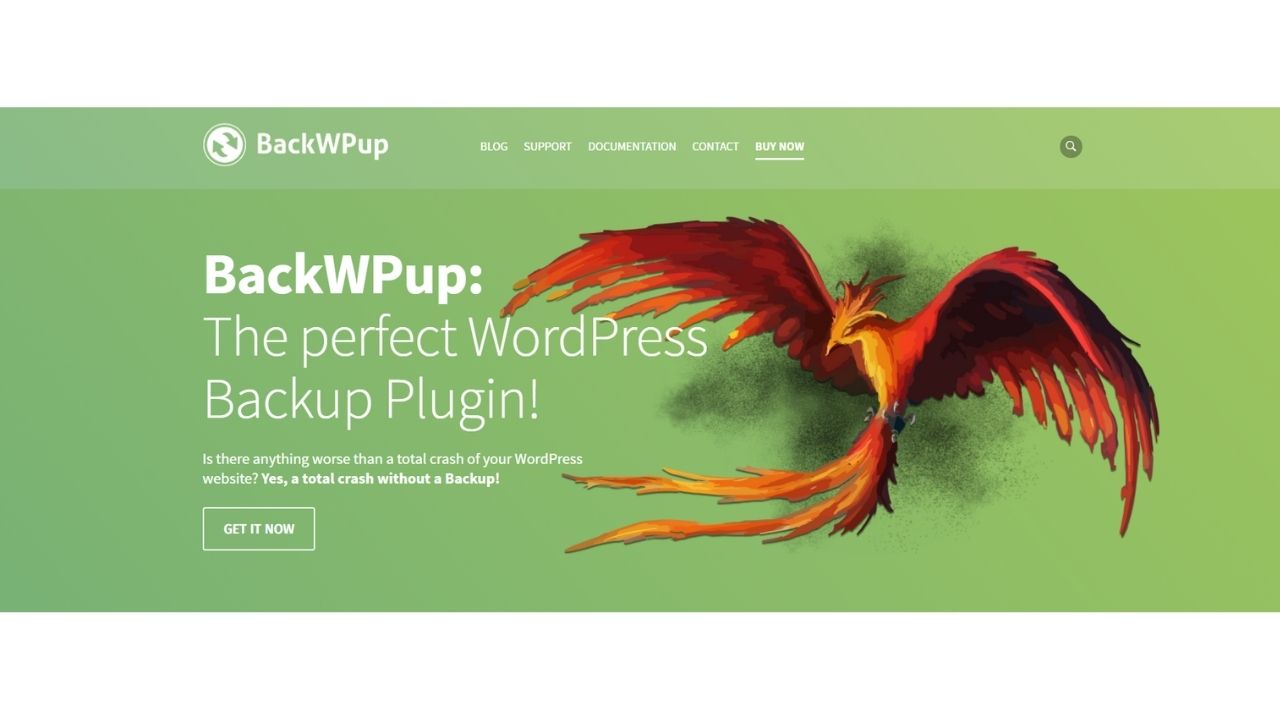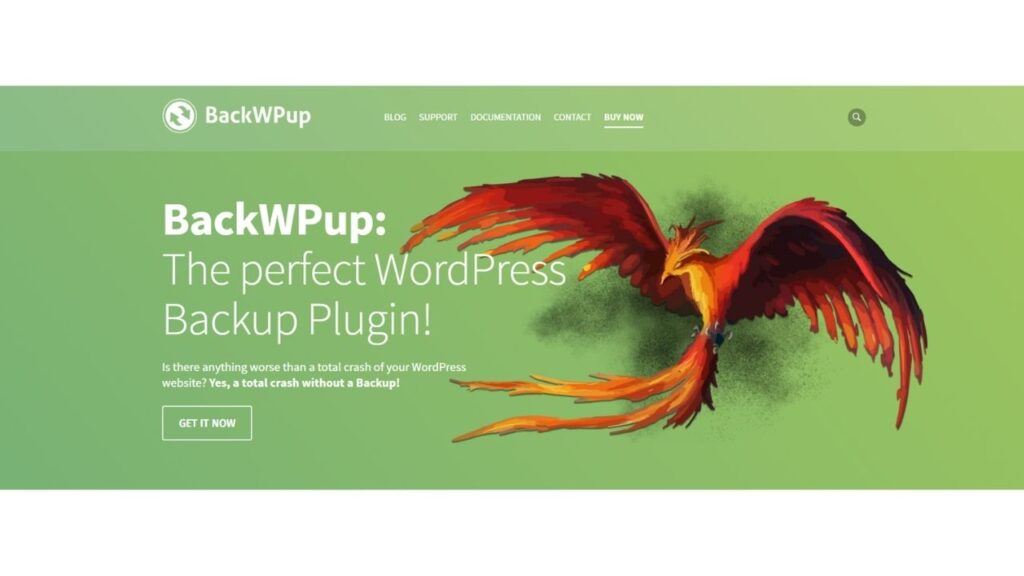 BackWPup is the best free WordPress plugin in 2023
. That allows you to create a complete backup for free and stores it on the cloud. 
This plugin supports a scheduled backup feature that backs up your site's data according to your site's update frequency.
BackWPup has over 600,000 active installations. Users find it an easy-to-use plugin that supports various storage options and provides complete automatic backup and restore.
Features
Plans and Pricing
| | |
| --- | --- |
| Basic version | Pro version |
| Free | It starts at $69/year. |
| Complete Database backup | Backup to HiDrive |
| Multisite support | Wizard for schedule backup |
| Backup Archives | Custom API key for Dropbox |
| Backup to S3 services( Amazon, Google, and more) | Automatic Backups |
Our Verdict
Undoubtedly BackWPup is a widely popular backup plugin in the market with over 600,000 active users.
If you have a small-scale business, then its free version features are enough for you, and if you want to go for more advanced features, buying a premium is not a bad option.
3. VaultPress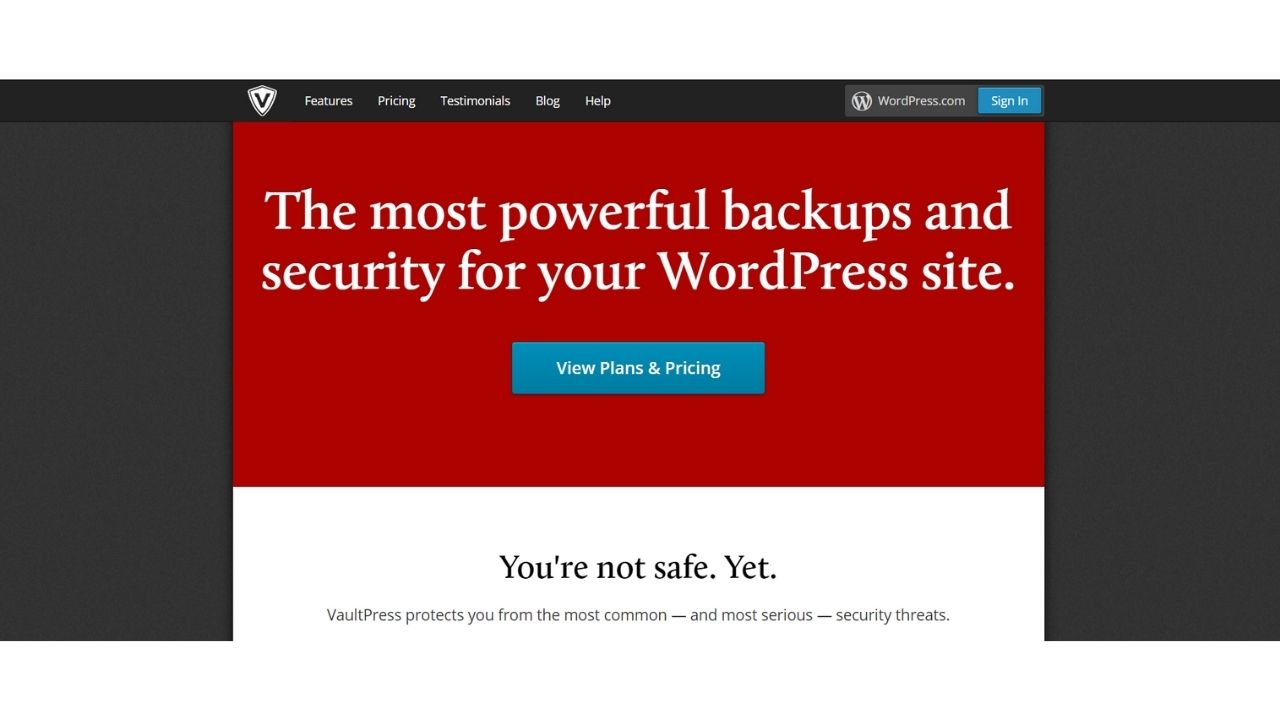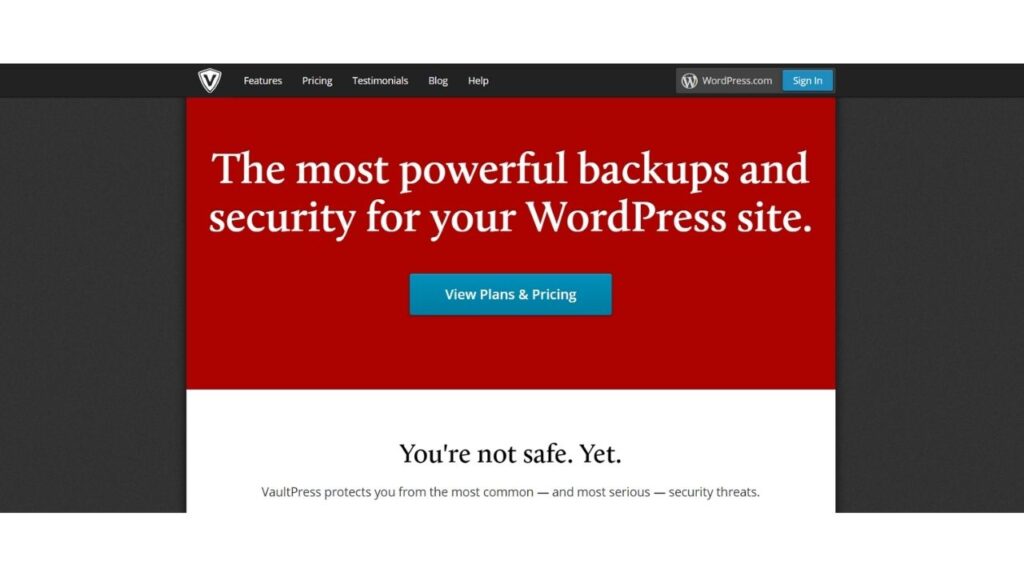 Jetpack is an alternative name of VaultPress, and in the market, it is popularly known for its alternative name.
Jetpack offers the best quality features in its premium versions, such as real-time cloud Backup support, security scans, unlimited backup archives, and many more. But for that, you have to pay $49, and that's a high pay price for beginners.
But overall, even at the high price, VaultPress still holds the best WordPress backup plugin in the market.
Features
Plans and Pricing
| | | |
| --- | --- | --- |
| Daily Backup plan | Security Daily plan | Complete plan |
| $3.95/mon | $13.95/mon | $50.60 |
| Automated Daily | All daily backup features | All Daily security features |
| backup(off-site) | Scan(daily, automated) | Backup(real-time, off-site) |
| One-click restoration | Complete and form protection | Scan(real-time, automated) |
| Unlimited site storage | Unlimited video hosting | CRM: Entrepreneur bundle |
Our verdict
VaultPress is a premium backup plugin. Suppose you use it for other purposes like CDN for photos, social media promotions, Elastic search, then you may consider it as a suitable choice. But if you want a decent Backup service, then I suggest it's not a good deal.
4. BoldGrid Backup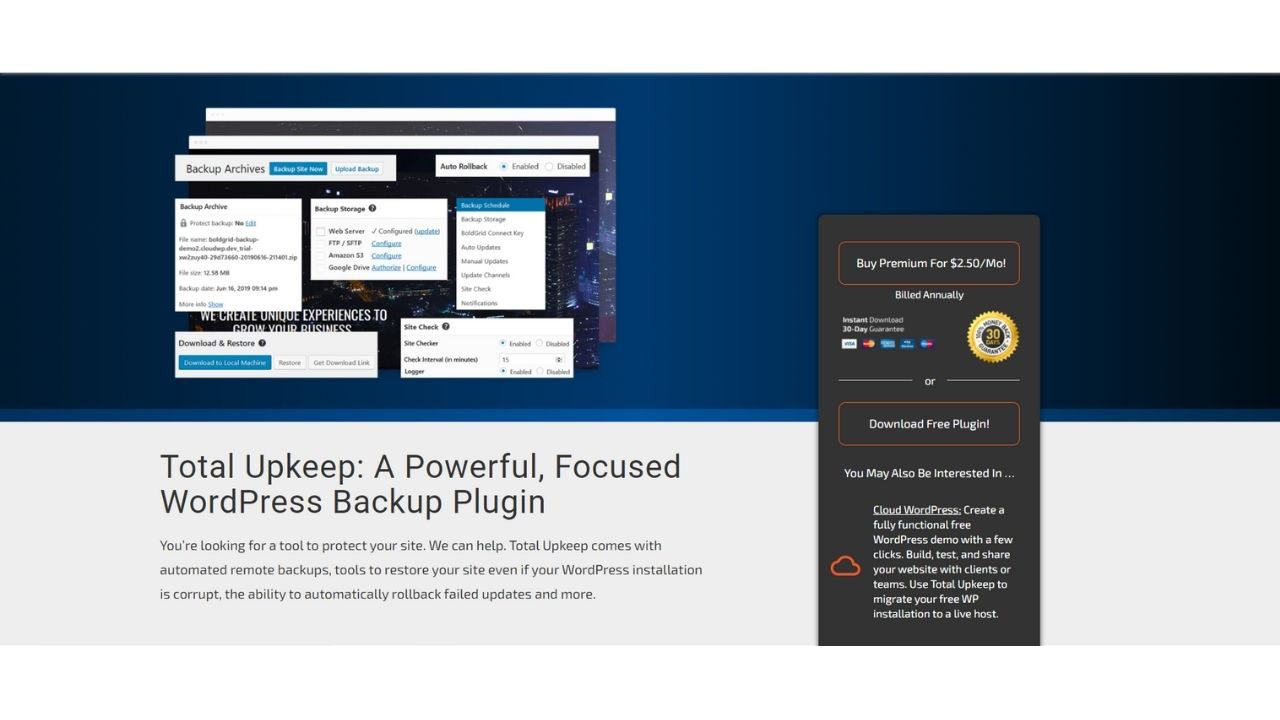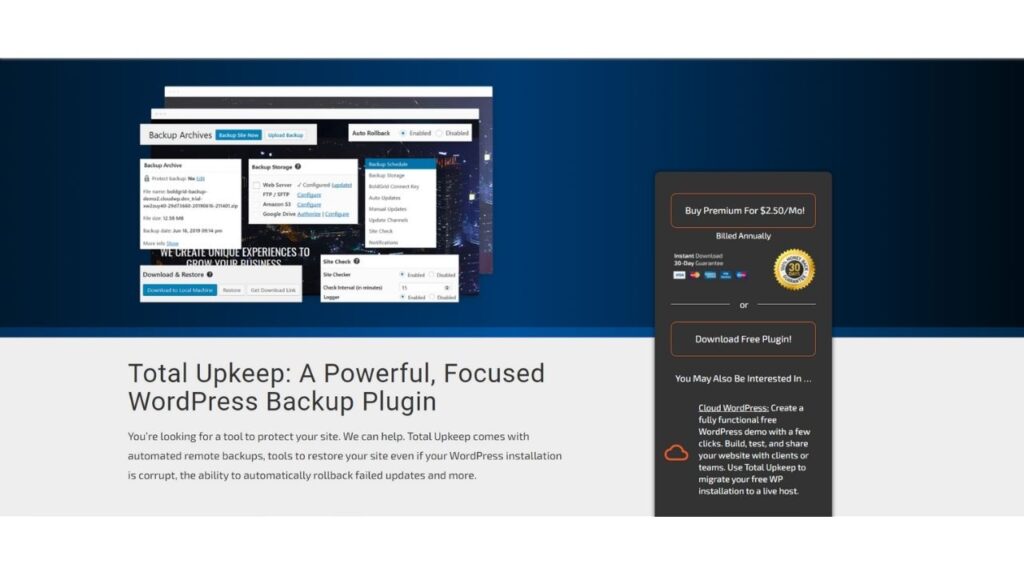 BoldGrid Backup plugin is a plugin of BoldGrid, which is a website builder powered by WordPress. It allows you to create your site's backup with the support of automated backups.
It also allows you to create your site's backup manually with one click. BoldGrid supports automated fault protection, automatically configuring your site's data before your site updates.
It is bagged with some advanced features such as one-click restoration, stores backup on cloud servers, and many more.
Features
Plans and Pricing
| | |
| --- | --- |
| Basic plan | Premium plan |
| Free | $60/year. |
| Automated backup | Toolset to prevent web crashes |
| Safe, consistent Backups | Automated WordPress updates |
| Remote backups to S3 and Google drive | Auto restore |
| Automated protection | Automated site protection |
Our verdict
BoldGrid is a decent WordPress backup plugin. You can easily create backups for your site data in just one click. Its free version is somewhat capable of small-scale handling business. However, if you run a large-scale business website, then you should opt for the premium version.
5. WP Time Capsule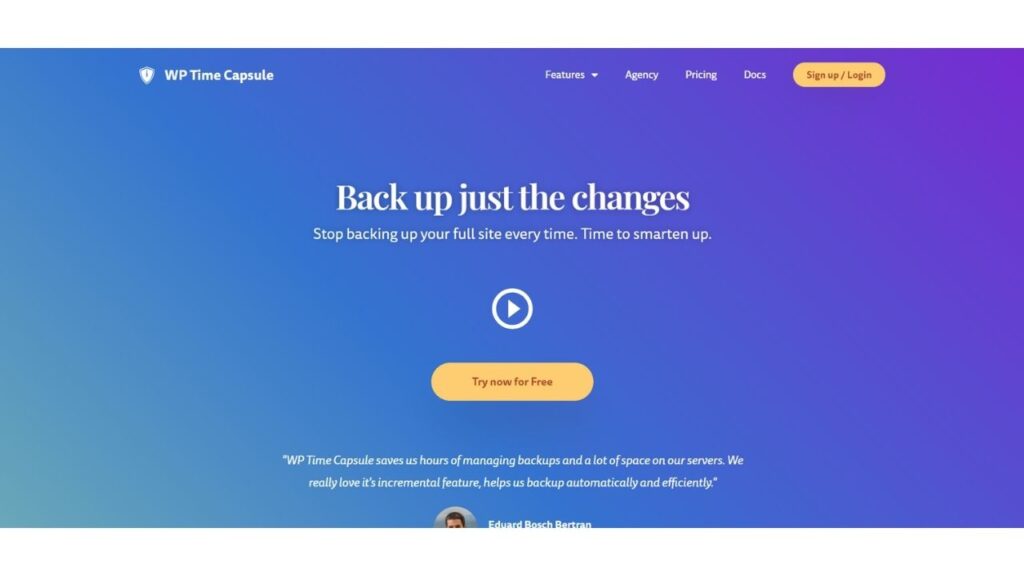 WP Time Capsule is one of the best WordPress backup plugins in 2023. It stores your site's backup on widely popular cloud storage sites like Google Drive, Amazon S3, And Dropbox, making it an advanced secure plugin in this list. 
To fully optimize cloud storage sites, you have to connect it with one cloud storage site just after installing it on your WordPress site. Once it successfully connects, it will automatically start creating your site's backup and storing it on whichever cloud storage site you choose.
Features
Plans and Pricing
| | |
| --- | --- |
| Basic plan | Premium plan |
| starts at $49/year | $149- Lifetime |
| One-click staging | One-click staging |
| 30 days restore Windows | 365 days restore Windows |
| Two sites | Unlimited sites |
Our verdict
WP Time Capsule backup plugin is simple to use, straightforward and user-friendly, and comes with a Cloud storage site. If you don't want to pay monthly fees, this plugin offers one-time investment premium plans at an affordable price.
Conclusion
So, these are top-notch, or we can say the best WordPress Backup plugins in 2023. They all are capable of working on both small and large-scale business sites. All of them offer complete site backup and database backup, along with it secures the data.
If you are a person who is low on his budget and wants a real-time Backup plugin, then I suggest you should go with JetPack. Because backing up your data every single day or hour can take too much time. But in the case of Jetpack, the data gets automatically stored on a Cloud storage server the moment you update it.
Well, in the end, I highly recommend not to back up your site's data on the same server on which you are hosting your site. The reason is simple: if, due to any calamity, your server gets crashed, then it's impossible to restore the data from it.
And one more thing, wisely choose those plugins that offer off-site backup support that means they store your data on cloud storage like Amazon S3, Google Drive, and Dropbox.